The Persecution & Prayer Alert
"So many of the believers who have experienced incredible pain
and suffering, and those living under constant threat and hardship,
all seem to have a clear understanding of the fact that we are not
citizens of this world, but rather citizens of heaven (Philippians 3:20).
This life on earth is just temporary…. Heaven is eternal!"
~ Greg Musselman, The Voice of the Martyrs Canada
---
NIGERIA: Fulani Herdsmen Accelerate Attacks

Source: World Watch Monitor, RLPB, Morning Star News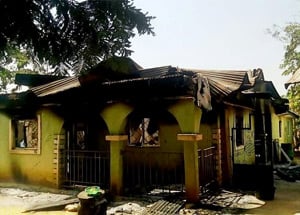 The aftermath of a recent attack by Fulani herdsmen.
World Watch Monitor
On the evening of November 13th, Fulani herdsmen besieged and attacked five villages located within the Kauru Local Government Area in the predominantly Christian Kaduna State. Armed with guns, knives, machetes and explosives, the Muslim militants killed 45 civilians — mostly women, children and elderly residents — while wounding dozens more and displacing thousands. Numerous vehicles and over 120 houses (including eight house-churches) were torched.
It is reported that attacks in northern Nigeria have accelerated in recent months, marked by greater sophistication in training and arms. Frustrated by the endless carnage, Christian leaders have reiterated the call for more security, including the establishment of a military base in Southern Kaduna.
Referencing previous attacks in the area, Rev. Dauda Samson of the Evangelical Church Winning All states: "Two churches were destroyed at Angwan Ali and Sabon Gari villages…all 22 Christians killed by the herdsmen (in these attacks) were members of local church congregations in area villages."
National chairman of the Kaninkon Development Association, Waje Goska Williams, concludes by saying, "We are under unprovoked and sustained attacks by people…working closely with the local Fulani (whom) we have lived with for many years."
More information on the serious concerns facing believers in northern Nigeria, as well as previous reports and video documentaries, can be found at our Nigeria Country Report.
Pray that the Lord will draw especially near to the persecuted Christians in Southern Kaduna — including those who've been displaced — as they struggle with tragic loss, fear, doubt and despair; and against the temptation to hate or retaliate against the perpetrators of the attacks. May they be encouraged to lift their heads and look to Jesus for their comfort, healing, justice and security. May His divine grace strengthen them in their time of tremendous need. Also pray for President Muhammadu Buhari and Kaduna Governor Nasir el-Rufai, asking God to help them in their endeavours to strengthen security in Christian regions and crack down on the illegal activities of the Fulani.
---
INDONESIA: Young Children Victims of Church Attack

Source: The Jakarta News, BBC, Reuters, VOM contacts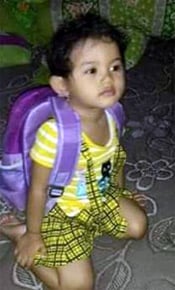 Intan Olivia Marbun
A three-year-old girl has died from injuries after an attack took place at a church on the island of Borneo. Little Intan Olivia Marbun was severely burned when an attacker threw petrol bombs at a group of small children playing outside Oikumene Church near Samarinda on November 13th. Three of Intan's young friends — Alvero (4), Triniti (4), and Anita (2) — were also badly burned.
Police arrested a 32-year-old suspect after he was captured by local people following the attack. The police stated that the attacker was imprisoned in the past on terrorism charges. He has been identified as a militant linked to local extremists supporting the Islamic State (ISIS) terrorist group.
"The man passed by the church and threw what we suspected (were) low-explosive cocktail bombs, causing injuries to four children who were playing there," local police spokesman Fajar Setiawan reported. Police say the attacker was wearing a t-shirt emblazoned with the word "jihad." The spokesperson added that "Intan suffered extensive burn injuries and respiratory problems, and doctors could not save her."
Indonesia, which has the world's largest Muslim population, is also home to significant numbers of Christians, Hindus and Buddhists. The country has suffered a series of attacks inspired by the ISIS militant group in recent times. Additional reports on persecution in this country are available at the Indonesia Country Report.
Please uphold Intan's grieving family and other members of this victimized Christian community, asking the Lord to comfort and strengthen them in their shock and sorrow. Also intercede for the three young children who thankfully survived the attack yet were hospitalized because of the seriousness of their injuries. May they fully recover — not only physically but also from the emotional trauma. Pray that this church fellowship will be able to safely meet for worship services so they can encourage one another in the faith. May their witness continue to reach many, including those who currently oppose the Gospel.
---
PRAISE REPORT
---
SUDAN: Christian School Resumes after Attempted Takeover

Source: World Watch Monitor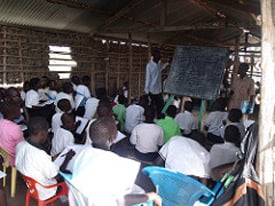 A school in Sudan. (cc)
Photo: Flickr / SuSanA Secretariat
A judge in eastern Sudan ordered a Christian school, which government officials had previously taken over, to resume classes under the prior Christian administration. "The court has ordered the school to continue its function with the current administration and without interference from the commissioner," announced the school's headmaster, Rev. Samuel Suleiman Anglo. "Things are normal, thank God."
The Appeal Court for Administrative Affairs in Madani, Al Jazirah state, cancelled a previous order by which the Madani commissioner had called for the closure of the Evangelical Basic School. On October 24th, armed police — along with civilians from Khartoum and elsewhere — had seized the school, which serves more than a thousand students aged three to 18 and belongs to the Sudan Presbyterian Evangelical Church.
Harassment, arrests and persecution of Christians of various denominations have intensified in Sudan since the secession of South Sudan in July 2011. Since 2012, Sudan has expelled foreign Christians and bulldozed church buildings on the pretext that they belonged to the South Sudanese.
The Sudanese Minister of Guidance and Endowments announced in April 2013 that no new licenses would be granted for the building of new churches in Sudan, citing a decrease in the South Sudanese population. To learn more about the political and spiritual climate of this country, click here.
If you would like to post a prayer of praise or petition on behalf of our persecuted family around the globe, visit VOMC's prayer wall.
---
The Persecution & Prayer Alert is a ministry of:
The Voice of the Martyrs Canada, P.O. Box 608, Streetsville, Ontario, L5M 2C1
Tel. (905) 670-9721 Website: www.vomcanada.com
Sorry, the comment form is closed at this time.