The Persecution & Prayer Alert
"My sheep hear My voice, and I know
them, and they follow Me. I give them eternal
life, and they will never perish, and no one
will snatch them out of My hand."
~ John 10:27-28 (ESV)
---
UGANDA: Father Burns Child for Following Jesus

Source: Morning Star News

Nassif in hospital.
Photo: Morning Star News
A nine-year-old boy in Uganda has been hospitalized after his father, a militant Muslim, tied him to a banana tree and set it on fire, as a means of punishing the child for placing his faith in Jesus. Nassif became a Christian when a well-intending neighbour took him to visit a church in another village on June 5th.
According to the pastor of the church, the boy's father and stepmother became very angry when they learned he had converted to Christianity. Upon hearing Nassif's screams for help, concerned neighbours brought him to Kamuli Hospital. His father was subsequently arrested and then later released on bail.
The boy suffered serious burns to several parts of his body, a hospital spokesperson reports. "Nassif has been recovering, but at a very slow pace," he explains. "He might need to be referred to another hospital for specialized treatment."
The neighbour who introduced Nassif to the church now fears for his own life since receiving the following threatening text message: "We know that you are behind the conversion of Nassif to Christianity. You will soon reap what you have sown, which will be a lesson to others. Islam is against such conversion." A relative of the child is hoping to assume custody of Nassif after his release from the hospital.
Please pray for young Nassif's full recovery, both physically and emotionally, and for God's protection over his life when he is released from hospital. May this traumatized child understand how much his Heavenly Father truly loves him, and the fact that He has a wonderful plan for Nassif's life. Ask the Lord to also protect the threatened person who willingly took Nassif to church, as well as the concerned neighbours who brought him safely to hospital. Intercede for the child's parents that they may come to know Jesus as their Saviour too. In general, let's uphold all believers within Uganda who are in need of protection, especially those residing in areas where there is a greater risk of persecution.
---
NIGERIA: Concerns Surround Proposed Legislation

Source: Religious Liberty Prayer Bulletin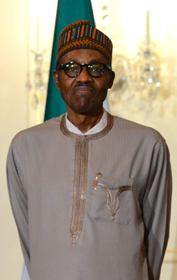 President Buhari
Photo: Flickr /
U.S. Department of State
A year after the official swearing in of President Muhammadu Buhari, the government of Nigeria is considering two bills that, if passed, will shift Africa's most populous country further toward Islam.
One bill proposes to establish grazing reserves in every state of Nigeria for the nomadic Fulani people, who are widely known to have been infiltrated by the militant organization Boko Haram. If passed, this bill could serve to facilitate extremist Muslim expansion into the south where most of Nigeria's Christian population lives.
Another bill, which allows for expanded jurisdiction of Sharia courts in Nigeria, quietly passed a second reading without debate on May 19th. However, both Christian and Muslim students launched a peaceful protest in the nation's capital city of Abuja on June 7th, condemning the bill for being dangerously divisive and a blatant attempt to Islamize Nigeria.
President Buhari, a former military dictator, ran unsuccessfully on pro-Sharia platforms in presidential polls during the years 2003, 2007 and 2011. One reason he won the presidency in March of 2015 was because he dropped his pro-Sharia stance. To learn more about the country of Nigeria, click here.
Thank you for praying for Nigeria's governmental representatives that they would have the courage to step up and vote against this proposed new legislation. May they uphold human rights, including freedom of religion. Pray that the country's Christian leaders will serve as bold witnesses, conveying the truth and compassion of our Lord Jesus Christ, so that many others will have the opportunity to experience His life-transforming power. This includes the Fulani herdsmen in need of His conviction and strength to break free of the terror infiltrated by Boko Haram. For only with the Lord's help will there be an end to such violence and injustice in Nigeria, and the needful reign of true peace throughout the land.
---
RECENT PRISONER UPDATE
---
IRAN: Christian Returns to Prison in Weak Condition

Sources: Release International, Middle East Concern

Maryam (on left)
Photo: Mohabat News
Maryam Naghash Zargaran has been prematurely transferred back to her prison cell before hospital medics were able to complete their treatment of her serious health problems. An Iranian Christian who converted from Islam, Maryam has been imprisoned in Tehran for three years, with one more year remaining in her four-year sentence.
The incarcerated believer was recently on a hunger strike in protest of the prison's failure to provide proper medical care. Sources close to her family say that Maryam reached a state of being "almost comatose" by the time she was finally allowed out of Evin Prison for treatment. When a court ordered Maryam's return to prison, her family applied to have her medical leave extended. However, the prosecutor's office refused, threatening to confiscate her bond money (an amount equivalent to about $127,000 Canadian).
The young woman was arrested in 2013 and charged with "acting against national security" in connection with her work at an orphanage alongside Pastor Saeed Abedini. Pastor Saeed, having been granted dual American-Iranian citizenship after immigrating to the States years ago, was released from prison in January of this year. A previous report on Maryam's situation is available here.
We invite you to join us in praying that God, in His great mercy and compassion, will bring needed healing and comfort to our Iranian Christian sister Maryam, trusting Him for her timely release from imprisonment. May He continue to console and encourage her family members and friends who are understandably very concerned over her health condition and well-being. At the same time, let's be mindful of every Christian in Iran today who is behind bars for their faith, praying that each of them will sense "the peace of God, which surpasses all understanding…" (Philippians 4:7).
If you would like to post a prayer of praise or petition on behalf of our persecuted family around the globe, visit VOMC's prayer wall.
---
The Persecution & Prayer Alert is a ministry of:
The Voice of the Martyrs Canada, P.O. Box 608, Streetsville, Ontario, L5M 2C1
Tel. 905-670-9721 Website: www.vomcanada.com
Sorry, the comment form is closed at this time.